Discover more from Big Technology
A newsletter about big tech and society by independent journalist Alex Kantrowitz.
Over 141,000 subscribers
Frankenstein Politics: Facebook's Anti-China Campaign Spins Out of Its Control
After months of anti-TikTok rhetoric, Facebook had second thoughts when its rival faced a ban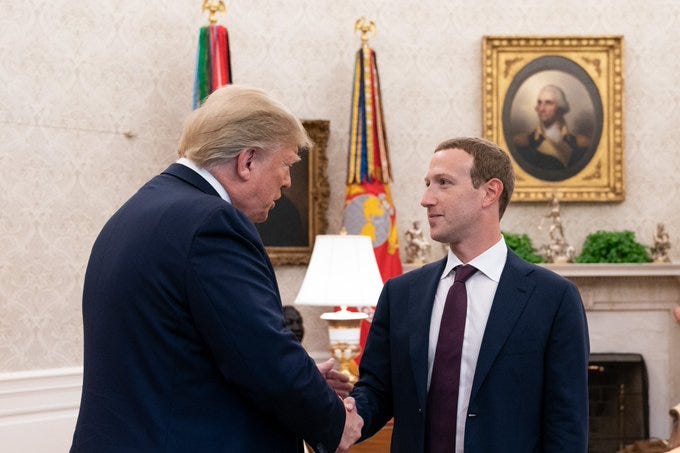 Standing in front of a packed Georgetown auditorium last October, Mark Zuckerberg took his TikTok criticism to a crescendo. Activists around the world, he said, were organizing on Facebook-owned WhatsApp, while TikTok — "the Chinese app" — was censoring them.
Zuckerberg, in his comparison, drew a line between two competing visions for the internet. One, his preference, would foreground free speech while allowing for the problems that come with it. The other would hew closely to a political party's values (like the Chinese Communist Party's), and while it might be 'safer,' it would also be rife with censorship. 
"Is that the internet we want?" Zuckerberg asked of the China model.
Zuckerberg's convenient attack — broadsiding a competitor while making the case for Facebook to operate relatively undisturbed — is one he and his company already seem to regret. His remarks, delivered a few miles from the White House, didn't seek a TikTok ban from its occupant, but they did contribute to an environment of uncertainty that led President Trump to order its sale. Zuckerberg and his lieutenants now fear a backlash, one that could lead to repercussions for their company outside the U.S. 
"It's a classic Facebook move to naively wind up someone like Trump," one former Facebook employee told me. "Facebook ruins things for the whole tech industry."
Coming into Georgetown, Zuckerberg needed a bogeyman. After years of scrutiny over Facebook's laissez-faire approach to political speech, he entered the talk with a new motto: "It's better to be understood than liked," and prepared to defend Facebook's philosophy as the 2020 election season neared. In TikTok, Zuckerberg found a useful foil. The app's China link could help him stoke fear of state-sponsored censorship while positioning Facebook as the preferred alternative, and he'd kneecap his fiercest competitor since Snapchat in the process.
Privately, Zuckerberg took his message directly to the country's most powerful politicians. He met with Trump and argued he should be worried about Chinese technology more than Facebook, and he held meetings with senators where he discussed TikTok specifically. Some of these senators would later ask intelligence officials to investigate TikTok.
TikTok, which declined to comment, is indeed worthy of scrutiny. But in his campaign against it, Zuckerberg helped light a firework that — perhaps to his surprise — exploded. In normal political times, the U.S. would investigate the app and take measured action to protect against legitimate concerns over censorship and data security. In these times, however, the President landed on the brute force option, demanding a sale or ban.
Now, there is real fear inside Facebook that other countries will take similar actions against Facebook and its family of apps. "Most of the people who use Instagram are outside the U.S., as is most of our potential growth," Instagram head Adam Mosseri said in response to the potential ban. "The long term costs of [other] countries making aggressive demands and banning us over the next decade outweigh slowing down one competitor today." Zuckerberg himself told Facebook employees that a ban would set "a really bad long-term precedent." 
Facebook's concerns are not unfounded, according to Anupam Chander, a Georgetown Law professor who focuses on global technology regulation. "The U.S. actions against TikTok will lead some foreign nations to reconsider their treatment of all social media from abroad," he told me, "And even perhaps to force the sale of their local operations on grounds of foreign surveillance."
Should even a few countries take such action, a global cascade of government interference in the open internet could ensue, imperiling Facebook's mission to connect the world, and possibly harming other U.S. companies as well (see: Apple). This is not the outcome Zuckerberg was hoping for. He simply wanted Facebook to be left alone so it could compete with its global rivals. But in today's supercharged geopolitical environment, it's what he got. 
Senators on FTC funding: No comment 
Last week, Big Technology covered the severe underfunding at the Federal Trade Commission and the Department of Justice's antitrust divisions. Without more resources, these agencies can't properly check the tech giants. So it was heartening to hear former FTC Chairman William Kovacic ask the senate this week to "give the FTC a billion dollars a year for 10 years and see what we get."
The Senate's response, however, wasn't a profile in courage. Instead of taking Kovacic's request seriously, Senator Maria Cantwell of Washington joked about the salaries former FTC commissioners were earning from the private sector. Lost on her, it appeared, was how the FTC's lack of resources factor into the private sector's ability to poach from it.
Asked whether Cantwell thought the agency was appropriately resourced, her press representative did not reply. And no senator on the subcommittee on antitrust, competition policy, and consumer rights — tasked with oversight of antitrust at the DOJ and FTC — responded on record to a question about these agencies' resources. Big Technology remains open to their thoughts. 
This week on the podcast: Why venture capitalists are mad, with Bloomberg Beta venture capitalist Roy Bahat
Venture capitalists, founders, and others in the tech industry are feeling pretty raw these days. Once admired as upstarts fighting the status quo, they now feel under siege, under attack for the negative things their products do without being appreciated for how they improve our lives. 
Bloomberg Beta head Roy Bahat, a veteran venture capitalist, joins the Big Technology Podcast this week for a nuanced conversation about what's going with the tech world, how its innovation might be linked to its problems, and how it should handle the criticism.
You can listen and subscribe on Apple Podcasts, Spotify, and Overcast. Transcript coming to OneZero tomorrow.
Stopping in with Mitch Joel
This week, one of my favorite podcast interviews from the Always Day One book tour dropped. It's a conversation with Mitch Joel, author of Six Pixels of Separation, who hosts a terrific podcast with the same name. Mitch was pretty relentless in his questioning, and it made for a fun conversation. You can listen here.
Tips, comments, suggestions?
Just a reminder that I welcome your thoughts after each issue. Feel free to send tips and ideas by replying directly to this email. These messages come right to my inbox.